Make No Smoking Day 2023 the day you quit for good
The message on No Smoking Day 20233 is this: today is the day to give up smoking for good.
While quitting can feel stressful in the short term, research shows that once you're past the withdrawal stage, your mental health also improves. Today is the day to stop smoking.
Where's what you need to know
You can jump to the information sections with the buttons below or read through them to learn more.
---
No Smoking Day 2023
The first No Smoking Day was launched by a charity of the same name in 1984 and has been an annual awareness event ever since.
The aim has always been to help people stop smoking. In some years, the focus has been on new types of support, while at other times, it has been about the increased risks of smoking and the benefits of giving up.
But the main message remains the same – it is never too late to quit smoking.
Smoking causes Dementia
Most people know that smoking damages your lungs and heart, but did you know it is dangerous for your brain and increases the risk of dementia?
This year, a new approach developed in partnership with Alzheimer's Research UK shows the links between smoking and developing dementia.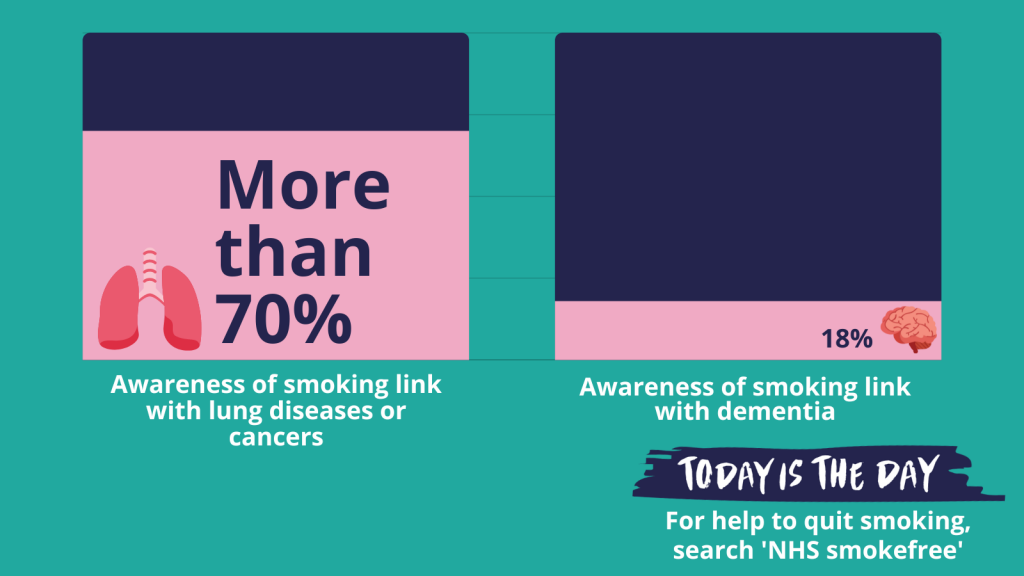 For people over 55, dementia is the most feared health condition, more so than cancer or diabetes. Despite this, only 18% of smokers – fewer than 1 in 5 – know smoking increases your risk of dementia.
This compares to 70% of smokers who know smoking causes lung diseases and cancer.
Smoking damages your brain because the chemicals in cigarettes harm your vascular system, which is responsible for getting blood around your body to your brain.
Never too late
A big part of No Smoking Day emphasises that it is never too late to make positive changes. Every cigarette you don't smoke reduces the harmful chemicals in your body.
Smoking causes 16 types of cancer, lung disease, chronic obstructive pulmonary disease (COPD), stroke and dementia.
But quitting makes a difference, even if you halve smoked for a long time.
Research shows that quitting smoking at 60 can increase life expectancy by up to three years. Giving up at 30 can boost life expectancy by up to 10 years.
Quitting smoking today can be life-changing.
Feel the Benefits
There are a lot of benefits to stopping smoking.
Straight away, your pulse will return to normal 20 minutes after your last cigarette. In just 8 hours, your blood's harmful carbon monoxide level will have halved.
In weeks and months, you'll breathe better, with improved circulation and senses of taste and smell. In 12 months, your risk of a heart attack is 50% lower than if you had carried on smoking.
We have mentioned the changes in life expectancy above, as stopping smoking for good will reduce your chances of dying from lung cancer.
And then there's the money. The average smoker spends around £2,450 a year on cigarettes. Quitting smoking helps you live longer and can make you better off too.
Get Support
People who get help when trying to quit smoking are three times more likely to succeed. If you want to attempt to stop smoking, look at the options below and see what will work best for you.
Newcastle Stop Smoking Service is an NHS-commissioned service to help people across the city to quit. You'll get your own adviser to help you understand your motivations, set targets, and keep you on track.
There are drop-in sessions most days across the city, and you can get advice and tips on medication and aids to help you stop smoking.
Visit the Newcastle Stop Smoking Service website, email newcastle.stopsmoking@cgl.org.uk or call 0191 269 1103. You can refer yourself directly. No appointment with a GP is necessary first.
There are also types of treatments you can try. Stop smoking aids help with the cravings and nicotine withdrawal people may experience in the early stages of quitting smoking.
You may already be familiar with nicotine patches and gum, but there are other alternatives to help with the craving, like nasal and mouth sprays, inhalers, micro tabs, and lozenges.
Nicotine vapes are another option, and there are two prescription-only medications. The Stop Smoking service can help you find the best option.
Finally, there is digital support from the NHS.
The NHS Personal Quit Plan asks a few simple questions about your smoking and creates a plan to help you.
This will include the NHS Smokefree App, which helps you try to go 28 days smoke-free (at which point you are five times more likely to quit for good). You can track your progress, see how much you have saved and get daily messages of support.
Today is the Day
Whether you are just deciding to try to stop smoking or if you've tried before, today is the day.
Breaking unhealthy habits is difficult, but you're a step closer to success every time you try to stop smoking.
The key message is to never give up on giving up.