Introducing Homeshare UK North East
Homeshare UK North East is a charitable organisation that tackles isolation among older people and helps young people with safe, affordable accommodation.
Homeshare recently presented their service at a local NHS training event, and we wanted to share it with you. Read on to find out more.
Could Homeshare help you or a loved one to stay independent and avoid loneliness at home?
Homeshare brings together two people for company and friendship, alleviating loneliness and providing a reassuring overnight presence. It's a great way of living for anyone who needs a little extra help around the home with tasks like shopping, cooking, light cleaning, transport and more.
Homeshare matches have been taking place in the UK since the 1980s and it currently operates in 19 countries across the world. It's a tried and tested way of life.
In 2021 Homesharers provided 196,000 hours of support and there was a 5% increase in Homeshare matches around the country. Now Homeshare UK is expanding the reach by introducing and supporting new Homeshare programmes, including one right here in the North East.
How does it work?
Homeshare enables two people to share a home for mutual benefit.
Typically, an older person with a room to spare is carefully matched with a younger person who is happy to chat and lend a hand around the house in return for affordable, sociable accommodation. It enables older people to continue living at home for longer and helps younger people to gain independence, save money and live in a safe and comfortable home. There is no personal care involved, but a Homeshare can sit alongside a care package.
What is the value for older people and sharers?
Homeshare is proving slowly and steadily to be a resilient, stable and sustainable solution to many key policy issues, including tackling loneliness and isolation and unaffordable housing by bringing people together in a simple but effective way.
"It means a lot to have company in the house and have someone to talk to. Luckily Ellie is keen to talk. My appetite has come back, I eat better and I'm really enjoying the food Ellie is cooking." – Homeshare Householder, North East.
Key benefits are:
Enables people to stay living independently at home for longer.
Provides affordable accommodation at a time of record housing shortages and high rent.
Both people's families have peace of mind knowing that their relatives have secure accommodation and companionship.
Gives back to your community, providing an older person with support and giving a younger person a great start in life, particularly at a time of such high living costs.
A chance to make new friends, share skills and learn new ones.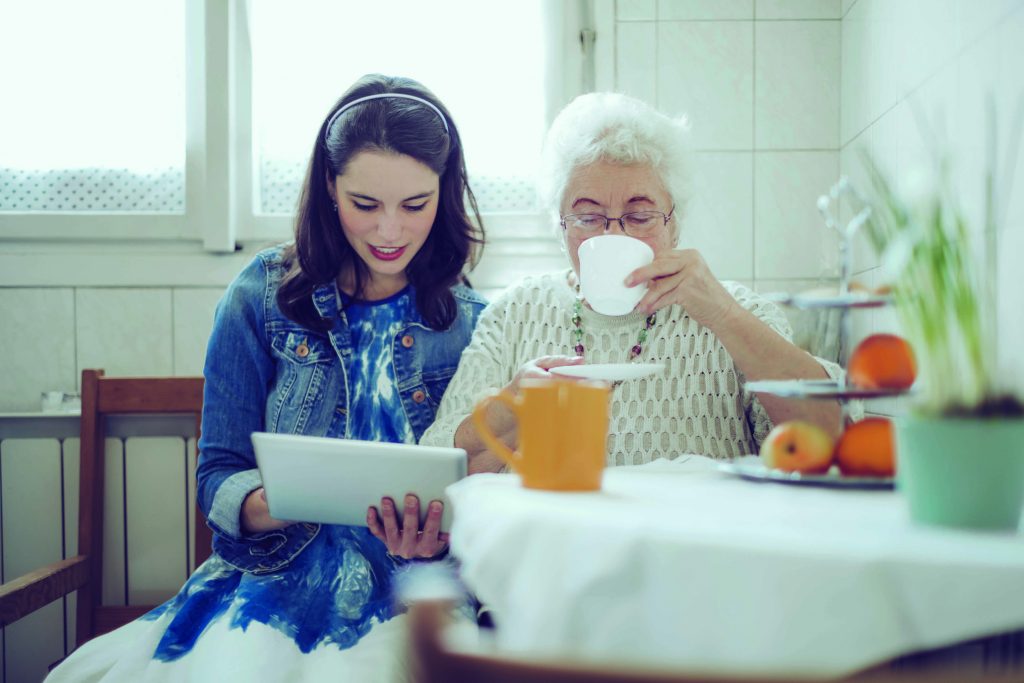 Is Homeshare safe?
All Homeshare UK network members set robust vetting processes in place involving police checks, trial period and references from family and friends, ensuring that safety is a top priority. It is natural to feel nervous, but across the board we see how this changes very quickly once a Homeshare arrangement starts. Matches are bespoke and are made very carefully based on personal interests. They are monitored regularly and are very successful, with Homeshare co-ordinators providing regular, face-to-face contact to support both people involved.
"Homeshare, to me, is reassurance." – Son of Homeshare householder.
Families also report feeling much more at ease knowing their loved ones have someone around to help at home and also from a safety perspective. Both older people who take part in Homeshare and their families know that someone is around so they are not alone at home overnight and to keep an eye out and sound the alarm if anything happens such as a fall or other medical emergency.
What types of people tend to Homeshare?
Anyone can benefit from a Homeshare arrangement, but householders are typically older people, most but not all of whom have some need of low-level practical support to help them to continue to live in their own home. Householders, or their families, often contact us after a fall or a bereavement as Homeshare improves safety and combats loneliness.
The majority of Homesharers are now aged between 26 and 49 and include young professionals (39%), postgraduate and mature students (29%), public sector workers and older professionals (21%) in need of affordable accommodation. In 2021 8% of Homesharers were aged over 50 and and a further 2% of Homesharers over 60.
Homeshares can last any length of time, with our longest lasting for seven years.
What does it cost?
No money changes hands in a Homeshare match. Instead, both parties pay a monthly fee to their local Homeshare organisation to cover the costs of their ongoing service, monitoring and support. Costs vary depending on where in the country you are, but typically a householder will pay up to £100 a month and a homesharer around £2-300 a month to the Homeshare organisation who make the match.
The homesharer may also contribute towards utility bills. All bill contributions are discussed at the start of a match and reviewed regularly.
Finding out more