Our First Learning Disability Patient and Carer Event
During the summer, we held our first network-wide Learning Disability Patient and Career event.
One of our goals as a group of 7 GP practices in Gosforth and Jesmond is to reduce health inequalities and help make sure that all patients can easily and comfortably get the health care they need.
The event was coordinated by Kathryn McHarg, one of our Social Prescribing Link Workers in Jesmond Lower Gosforth, with staff, patients and carers from all seven practices invited, along with some guests from organisations who work with people with learning disabilities.
It was a successful event, with patients and carers sharing their thoughts and ideas for how to improve the experience. We're grateful to everyone who came along.
Next month, the network team will be meeting with practice staff to go through suggestions and see how we can put them in place.
Carry on reading to find out about the four topics we discussed, or use the buttons to jump to sections of interest or have your say.
---
Annual Health Checks
First, we talked about the Annual Health Checks that people with learning disabilities are invited to every year.
As we covered in our news piece in July, people with learning disabilities often have worse physical and mental health, and the annual checks are designed to spot problems early and help keep people as healthy as possible.
In our groups, we heard from patients and carers about what has worked well at their previous checks, what has been difficult and how the appointments could be improved.
Popular suggestions were appointments at quieter times, more information in easy read format and questionnaires sent before the appointment, so people and their carers can complete them in advance, not feel rushed, and know a bit more about what to expect.
Knowing who the appointment will be with, especially if there is a familiar Doctor or Nurse the patient has seen before, was also mentioned.
We also talked about increased training for practice staff on how to recognise when people with learning disabilities or autism may be experiencing distress and how to proactively help them.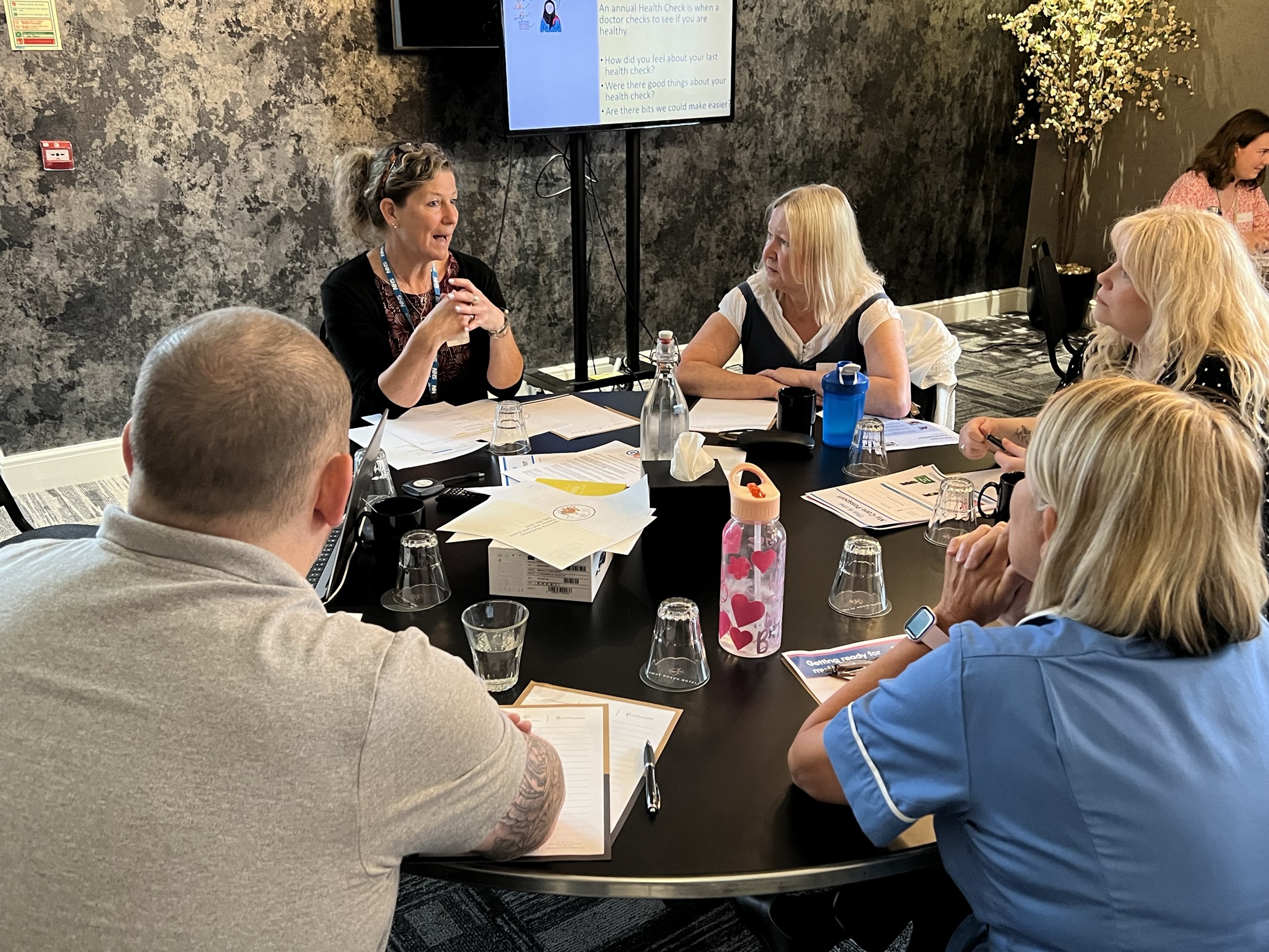 Reasonable Adjustments
This led to a conversation about reasonable adjustments – small changes that can help when you go to the Doctor's surgery or use other public services.
Much of these were discussed in the health check conversations, so the key thing for us as practices was how to make sure these adjustments are accurately and consistently recorded in patients' notes so everyone involved in their care is aware of them.
This is something we'll take forward at our October event with practice and network teams.
Health Passports
An area we were keen to explore was the idea of a Health Passport. Essentially a pocket-sized document that patients or carers could have on hand to quickly and easily give important information to NHS staff.
The idea was well-received, and there was enthusiasm for having a health passport if it could be small enough to be easily carried and succinct enough that staff would be able to quickly take in the vital information.
We also discussed ideas for how the information in a health passport could be collected, how it would be updated, and how it would need to be reflected on patients' records.
Post-Health Check support
The final topic was how our network Social Prescribing Link Workers and Health and Wellbeing Coaches could support people and their carers, either straight after a health check or through a referral.
Patients and carers felt it would be a beneficial thing, and the directory of services and support groups that the team have access to could be incredibly helpful.
Next Steps
The event was really helpful for our practice and network teams and gave a valuable insight into steps we can take to improve access to healthcare.
The topics, the thoughts of patients and carers, and ideas for solutions will be discussed next month. We look forward to sharing the outcome with patients soon.
What do you think?
The network team would love to hear from patients with learning disabilities and their carers, as well as from people with autism.
If that's you, then please fill out our survey. It covers the same four topics discussed at our event, and the more views we can get, the more we hope to be able to help everyone.